Les Délices de Belle France: High-end references for discerning food enthusiasts.

The Délices de Belle France represent a prestigious range of products from our renowned Belle France brand. This high-end selection offers superior quality items, ranging from classics to innovations, with recognized labels and protected geographical indications (PGI). The refinement of these products is highlighted by premium packaging, designed to be easily identifiable on the shelf.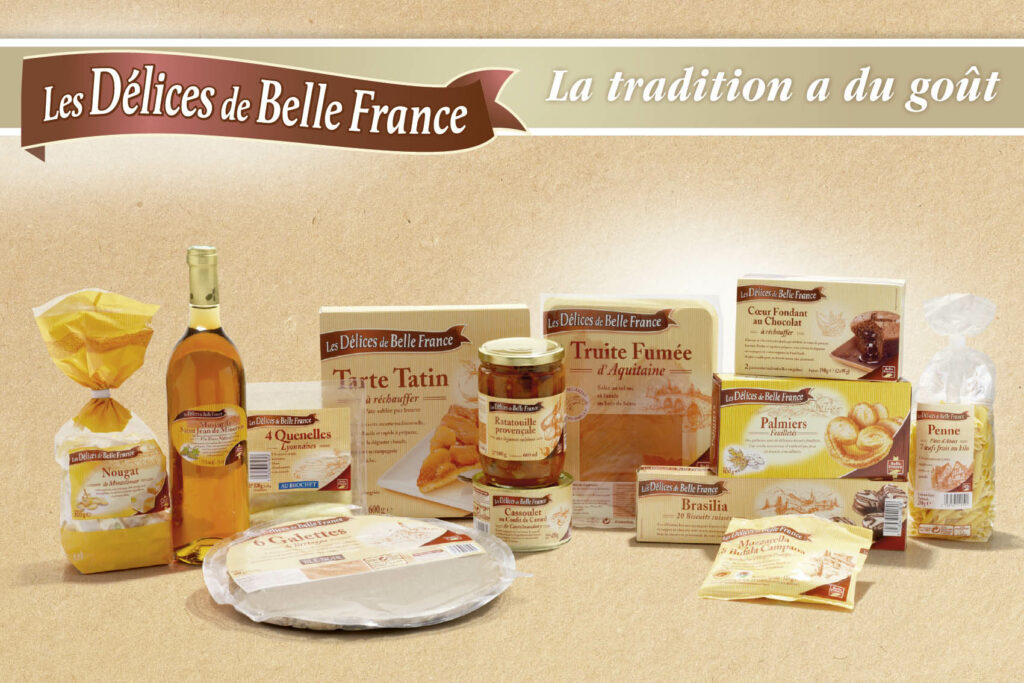 Quality and variety: The key elements of les Délices de Belle France.
The Les Délices de Belle France range, the premium segment of the Belle France catalog, is the result of rigorous and meticulous research for the best products available on the market. Each item is carefully selected to meet the expectations of discerning consumers in search of high-quality products.
The diversity of the products offered allows everyone to discover new flavors and enjoy the gastronomic delights from different regions. This high-end range includes local products, regional specialties, and items from organic farming.
Premium packaging: A touch of elegance to captivate customers.
Les Délices de Belle France also stand out with their meticulous and elegant packaging. The premium graphic design of each package is carefully crafted to showcase the product and catch the consumer's eye. This attractive design allows customers to easily spot the Les Délices de Belle France items on the shelf and associate them with a refined gustatory experience
Les Délices de Belle France: A constantly evolving product range.
The Belle France brand is attentive to market trends and consumer preferences. As such, the Délices de Belle France range is regularly evolving to offer new references and meet customer expectations. Innovative products and original recipes are constantly being added to enrich this selection, ensuring an ever-expanding and high-quality offering.
The products offered by our purchasing center, CABF, represent a range of high-end products carefully selected to meet the expectations of the most demanding customers. By choosing CABF as your partner, you will benefit from the quality and diversity of the Les Délices de Belle France products, their premium packaging, and the constant innovation of this exceptional range. This high-end offering allows your supermarket to stand out in the market and satisfy connoisseurs of excellent products.